Affordable Health Insurance for Your Employees
Research showed a significant 86% of employers in the US provided their employees with substantial health insurance benefits. In comparison, 51% confirmed that they extend disability benefits to their workforce. This data represents the standard group benefits offerings in the US in 2020.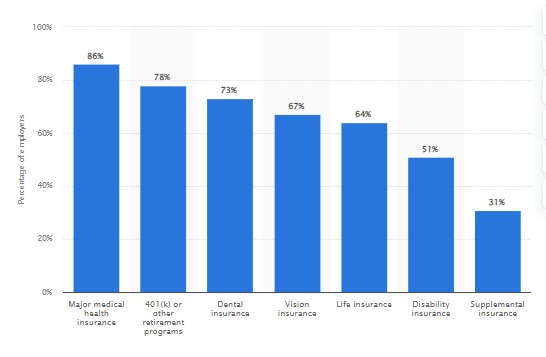 Image Courtesy: Statista.com
No one ever said running a business was easy. Enter the Affordable Care Act (ACA), requiring all business owners and employees to carry compliant healthcare coverage, and you've met one of your biggest business challenges. Whether your company is categorized as a small group (2 to 100 employees) or a large group (101+ employees), you need an affordable group benefits insurance plan with comprehensive solutions.
What are Group Benefits?
Group benefits are insurance policies that cover a group of people, typically the employees of a business. Along with medical insurance, these employee benefits may include additional coverage options. Some common examples are dental and vision coverage, disability insurance, and life insurance.
Group insurance plans can provide your employees comprehensive coverage fully insured at competitive rates and create a healthier work environment. They also provide tax advantages, as the premiums paid are typically tax-deductible.
Why Offer Group Benefits?
Group benefits are an important part of any business's overall strategy. Offering group benefits can help your business attract and retain top talent, demonstrate your commitment to employee wellbeing, and boost morale.
Attract and Retain Employees
Offering group benefits can help to attract and retain high-quality employees. This is because employees value benefits almost as much as their salaries. If you offer full-suite employee benefits, that will make them more likely to stay with your company.
Enhance Employee Well-being
By offering access to medical care, you can help ensure your employees stay healthy, reducing sick days and improving productivity.
Tax Advantages
Depending on your location, offering group benefits can also provide tax advantages. Some benefits are considered pre-tax, which can reduce your employee's taxable income and your business's payroll taxes.
Boost Your Business's Reputation
A comprehensive benefits package can enhance your business's reputation, making it a more attractive workplace. This can help you to attract top talent, enhancing your competitiveness in the job market.
Improve Employee Engagement and Productivity
Having access to quality benefits can help improve employee morale, engagement, and loyalty. This leads to increased productivity and improved customer service.
What are the Types of Group Benefits?
An employer has different options to choose from while offering employee benefits for small business. Your offer will depend on the size of your business and your budget. Some common options include:
Health Insurance
Health insurance is a standard component of most group benefit plans. This type of coverage assists employees in managing the financial burden of medical expenses. It typically covers costs for physician visits, hospital care, prescriptions, and sometimes preventative care and mental health services.
Vision Insurance
Vision insurance helps your employees cover the costs of routine eye care, exams, and corrective lenses. It can also provide discounts on vision correction surgery such as LASIK.
Dental Insurance
Having dental insurance creates peace of mind. It covers preventive care, such as cleanings and X-rays. Many plans also offer coverage for restorative care, including fillings, crowns, and other services.
Retirement Plans
Retirement plans such as 401(k)s are another standard offering for group benefits. This plan will help employees to save money from their paychecks for retirement.
Life and Disability Insurance
Life and disability insurance are crucial components of a comprehensive benefits package. Life insurance provides a monetary payout to an employee's designated beneficiaries in the event of their death. Disability insurance, on the contrary, offers income protection to disabled employees when they can't perform their regular duties for a certain period.
Paid Time Off
Paid time off encompasses holidays, sick days, vacation days, and personal leave. Some companies also include parental leave under this benefit. Paid time off helps companies to enhance employee well-being, reduce burnout, and improve productivity in the long run.
Other Perks and Benefits
Additional perks and benefits can vary widely among employers and may include tuition reimbursement for further education or professional development, wellness programs to support physical and mental health, flexible working arrangements, free or subsidized meals, and even discounts on company products or services. These perks can significantly increase job satisfaction and foster a supportive, engaging work environment.
How Much Do Group Benefits Cost?
The cost can differ based on the features selected. If benefits are provided voluntarily, each one costs roughly the same amount as a cup of latte from a coffee shop daily for the employee.
Many insurers offer affordable plans tailored to small businesses, and there are ways to control costs, such as by offering high-deductible health plans or contributing a fixed dollar amount toward each employee's benefits.
Final Words
Offering group benefits insurance is an investment in your business and your employees. Not only can it enhance the attractiveness of your business to prospective employees, but it can also boost morale, productivity, and employee retention rates among your existing team.
While there is an associated cost, the investment can result in substantial returns. More than just a cost, benefits are a tool to protect and grow your business. They protect by promoting employee health and well-being, reducing turnover, and fostering a sense of loyalty. They grow your business by attracting high-quality candidates, increasing productivity, and improving your company's reputation.