Don't Overpay on Life Insurance
As of 2021, life insurance policy ownership in America had declined to 52 percent, a significant drop from 63 percent recorded in 2011. The reasons behind this decrease are manifold, with factors like perceived high costs or a sense of non-essentiality often cited as primary deterrents to purchasing life insurance.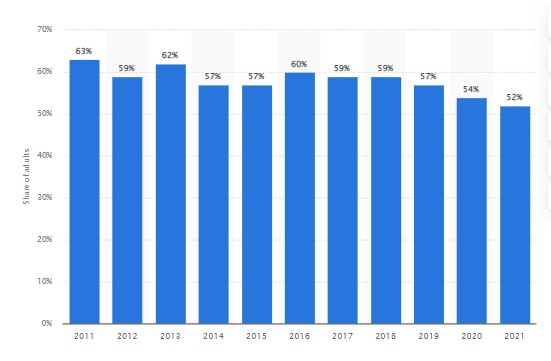 Image Courtesy: Statista.com
Life insurance is a fundamental cornerstone of financial security. In uncertain times, life insurance provides peace of mind that should something happen to you, your family will be taken care of.
Life Insurance: Understanding Its Purpose and Functionality
Life insurance functions as a contract between you and your insurance provider. In exchange for your regular premium payments, the insurance company pledges to deliver a predetermined amount, known as a death benefit, to your chosen beneficiaries upon your demise while the policy remains in effect. This death benefit serves as a financial cushion, aiding your beneficiaries in managing expenses or outstanding debts after your passing.
In addition, certain policies may offer added benefits. Depending on your chosen policy, life insurance can also provide additional coverage, such as terminal illness and disability benefits. While buying life insurance, there are several steps to finding a policy and provider that meets your needs.
Exploring the Variety of Life Insurance Products
Life insurance comes in different types, each designed to cater to various needs and situations. Let's briefly explore five such products: individual life insurance, group life insurance, long-term care insurance, disability insurance, and final expense insurance.
1. Individual Life Insurance
Individual life insurance policies offer protection against financial hardship to the policyholder's family in case of their demise. There are term and permanent life policies. A term life insurance policy covers a specific period, while permanent life insurance policies offer lifelong coverage and a cash value component.
2. Group Life Insurance
Group life insurance is often a part of employee benefits, provided by the employer. This type of insurance is more affordable than individual policies as the risk is spread across multiple people. However, the life insurance coverage typically ends when leaving the job.
3. Long-Term Care Insurance
Long-term care insurance caters to costs associated with long-term care services, which are not covered by standard health insurance. These services can range from assistance with daily activities to nursing home care and assisted living.
4. Disability Insurance
Disability insurance provides income protection for individuals who cannot work due to disability. Short-term disability insurance covers a short period, typically three to six months. In contrast, long-term disability insurance takes effect after short-term coverage ends and lasts until retirement or for a period specified in the policy.
5. Final Expense Insurance
Final expense insurance is aimed at covering end-of-life costs. These policies offer lower coverage amounts to handle expenses like funeral and burial costs. As a type of whole-life insurance, it remains active as long as premiums are paid and are often suitable for older individuals or those with health issues.
How To Find the Best Life Insurance Policy for You
Navigating the world of life insurance can be challenging, but these strategies can help you find the most suitable policy for your needs and financial circumstances.
Look at the Financial Strength
Always investigate an insurance company's financial strength ratings before you purchase life insurance options. These ratings, provided by independent agencies like A.M. Best, Standard & Poor's, and Moody's, provide insights into a company's financial health, ability to pay claims, and overall stability. A high rating can provide confidence in your choice.
Select Life Insurance as Part of a Larger Financial Plan
Don't consider how much life insurance is in isolation; include it as part of your broader financial plan. Consider your current and future financial goals, debts, income, family needs, retirement plans, and estate planning. This holistic approach ensures that your policy complements your financial trajectory and meets your specific needs.
Work With an Experienced Life Insurance Agent
Partner with an experienced life insurance agent or broker who can guide you through the insurance landscape. They can help you understand complex insurance terms, compare various policies, identify gaps in your existing coverage, and make the right choice based on your unique circumstances.
Check Competitors' Pricing
Different insurance companies have different pricing models based on their risk assessment protocols. Age, health, lifestyle, occupation, and hobbies can drastically impact your premiums. Don't assume all insurers offer the same rates—shop around and compare quotes before deciding. Get a life insurance quote from all the competitors and compare those before purchasing life insurance coverage.
Be Tricky with Variable Universal Life Insurance
If you're considering a universal life insurance policy, ensure any proposal includes detailed cost disclosures. Universal life insurance policies have underlying costs such as insurance charges, administrative fees, and other expenses. Transparency about the indexed universal life insurance cost can help you understand the policy better and avoid future surprises.
Figure Out if You Want Life Insurance Riders
Life insurance riders are additional benefits that can be added to a basic policy for extra coverage or flexibility. Common riders include waiver of premium, accidental death, child term, or long-term care riders. Determine if any of these align with your needs before you buy life insurance policies.
Final Words
Life insurance is a crucial part of financial planning. You should take the time to understand your needs and goals, evaluate insurance companies, and compare policies. Partner with an experienced life insurance company to ensure that you get the best coverage for your situation.
Ultimately, you want a policy that provides peace of mind and long-term financial security for you and your loved ones. When done right, life insurance can provide the protection you need today and in the future.